There are three main types of LED light guide plates: UV silk printing LED light guide plate, laser dot light LED light guide plate, and line engraved LED light guide plate.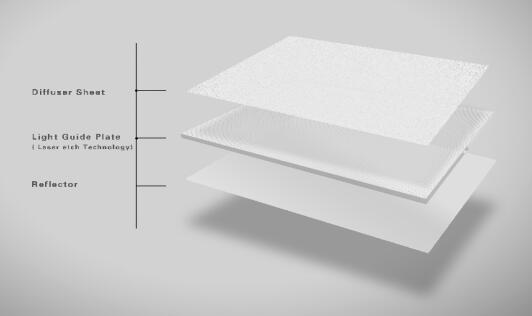 The LED real estate window advertising displays by UV silk printing LED diffuser panel has a life of about 2 years , because it is ink printing, no matter how the printing technology is improved, in reality, the printing question still exist in using outside, the temperature changing outside the led real estate sign will make it become yellow little by little, then affecting effect of the picture advertisement at last.
So the Real Estate LED window display is made by laser engraving LED light diffuser guide panel or the line engraved light diffuser plate, the life span will longer, about 10 years.
According to the production process, it can be divided into the following three categories:
1) UV silk screen printing light guide plate: simple production process, low cost and short service life, about 2 years.
2) Laser engraving light guide plate: the production process is complicated, the cost is high, and the service life is long, about 10 years.
3) Wire-cut or line engraved light guide: The manufacturing process is better than the above two, the cost is medium, and the service life is long, about 10 years.
From the perspective of long-term cost performance, it is more advantageous to choose laser engraving light guide plate and wire engraved light guide plate.
In the domestic market, many manufacturers or light guide plate suppliers have chosen UV silk screen light guide plates, because of its simple production process, no deep-level technology, and low cost. besides those advantages, it is really exquisite appearance, uniform illumination, ultra-thin volume, energy saving and stable weather resistance.but weak point still exist, UV silk printing reduce the service life.
Besides the hanging real estate signs, such led light panel also suitable for the round real estate signs, illuminated window signs, all kinds of real estate window decals as a special window vision.