J.K acrylic diffuser sheet, made of polycarbonate plastic, also named led diffuser panel, PMMA diffuser, Lighting diffuser, acrylic sheet or something others, is a translucent PMMA product with a textured surface on one side or both side specifically designed for LED panel light, downlight and so on. It features a unique combination of high light diffusion and high light transmission through a combination of optimized surface texture and advanced diffuser technologies. When compared to other acrylic diffusing products such as glass and PS, and PP sheets, J.K diffuser sheet has superior impact strength and toughness. Other surface textures are available for additional design options.
J.K acrylic diffuser, extruded sheet product was developed specifically as a diffusion lens for LED lighting. It offers distinct light diffusion levels that can be matched with other design elements to help achieve the desired lighting qualities for different fixture designs. The technology behind the sheet diffusion properties, helps minimize hot spots caused by intense LED lighting.
For the more rigid led light diffuser, clear Plexiglas or acrylic sheets can be roughened with standard sandpaper and then cut to size. These translucent products allow enough light transmission to create the impression of brightness and openness while shading out nearby objects. This DIY solution may be better suited for larger projects or very specific diffusion.
This led light diffuser acrylic sheet is characterized by a frosted texture on both sides. It allows light to pass through while providing a moderate amount of diffusion. It has objects on the other side that are blurred and difficult to see. The effect of light diffusion and blurring increases with thickness. Great for lighting, photography, signs, privacy screens and many other creative projects.
To order led diffuser panels, simply click here to fill out the form with any and all special requests for led diffuser panels and we will get back to you with a professional response within 24h.
Acrylic Diffuser Sheet Specification

Standard size:1220*1220*1.5mm
1220*1220*2mm
Thicknesses from 0.8 mm to 5 mm, We can tailor to customer's requirement and offer laser cutting service to meet some special demands. NEED A FAST QUOTATION
Acrylic Diffuser Sheet Appearance:

1, Translucent with One side matt, another side smooth;
2, Translucent with one side matt, another side orange peel texture.
Acrylic Diffuser Sheet Character
1.Efficiency
Acrylic diffuser enable high efficiency extraction of light from a luminaire without sacrificing performance. Transmission well in excess of 90% is typical, and luminaire dependent efficiency can be even higher.
2.Light source hiding ability
Acrylic diffusers offer outstanding hiding of LED and fluorescent light sources, with excellent color mixing. The diffusers solve the most difficult LED hiding problems while maintaining excellent efficiency.
3.Inreases light uniformity throughout the lighting diffuser;
4.Simplify design consideration for new fixtures and for retrofit conversions to LED's;
5.Choose the best option for different fixtures' performance requirements.
Acrylic Diffuser Sheet Application
Market research showed a need for diffuser sheet with different levels of light diffusion to meet various fixture performance requirements. "Some designs, for example, may want a low level of diffusion to soften the edges of emitted light. Others may need more light diffusion to reduce direct glare. Also, variables such as the LED-to-lens distance and the LED matrix spacing affect the optimal light diffusion. While diffusion and light transmission are directly associated, having these diffusion options allows the light fixture designer the ability to achieve the lighting qualities they desire for a specific fixture."
J.K Acrylic diffuser with different levels of light diffusion offer more possibility to design versatility, it simply mean more possibilities to find a diffuser that works best in the overall design, This is important especially when converting existing fixtures to LED lighting, where the diffusing sheet has to work well with design elements that already exist."
Application And Process Graphic:

For side lighting Led Luminaire:
Code
Thickness
Appearance
Recommend Light
Guide Plate
Transmission
(Test by Transmission and haze Analyzer, ASTM D1003-61(1997)
Efficiency
in typical
LED
luminaire
Commends
JK-90
1.5mm
One side matt, Another side orange peel texture
Screen printed LGP
93%
90%-93%
Highest efficiency, General defect hiding
JK-85
1.5mm
One side matt, Another side smooth
Screen printed or Laser cutting LGP
88%
88%-%92
Excellent efficiency, Increased defect hiding
JK-80
1.5mm
One side matt, Another side orange peel texture
Screen printed or Laser cutting LGP
85%
85%-88%
Excellent efficiency, Strongest defect hiding
Defect hiding means: the hiding ability to cover the defect from light guide plate.
types of led light diffuser acrylic sheet
Clear led light diffuser acrylic sheet
If you want to diffuse LED fixtures, you may not want to use clear acrylic diffuser sheets. However, they do protect your LED strips without reducing the overall light output.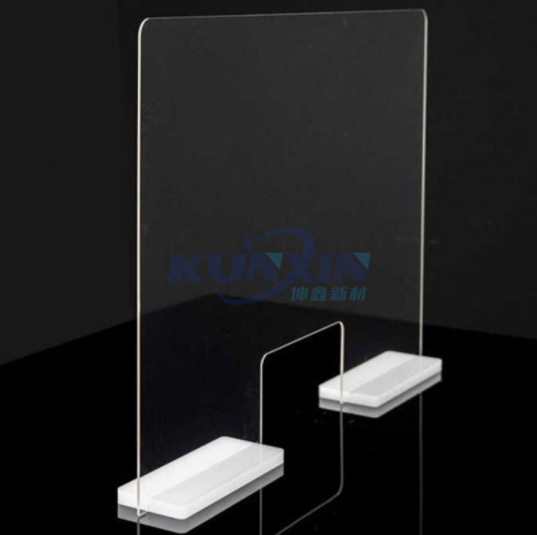 Frosted led light diffuser acrylic sheet
Frosted diffusion acrylic diffuser panels begin to spread light more evenly and eliminate the glare.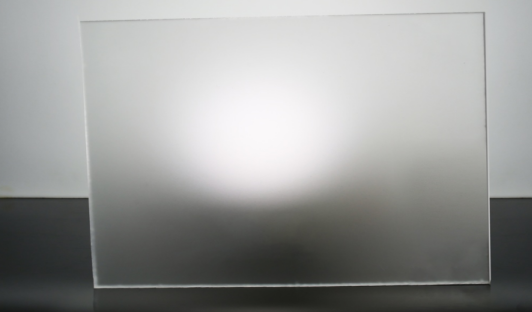 Milk or opal led light diffuser acrylic panels
Milk or opal acrylic diffuser panels help eliminate hot spots and reflections on highly reflective surfaces while achieving the most uniform light output.
Using milk LED acrylic diffuser panels is ideal for kitchen cabinets and most residential lighting applications. Not only does it look best when the light is off, but it provides the most uniform light spread.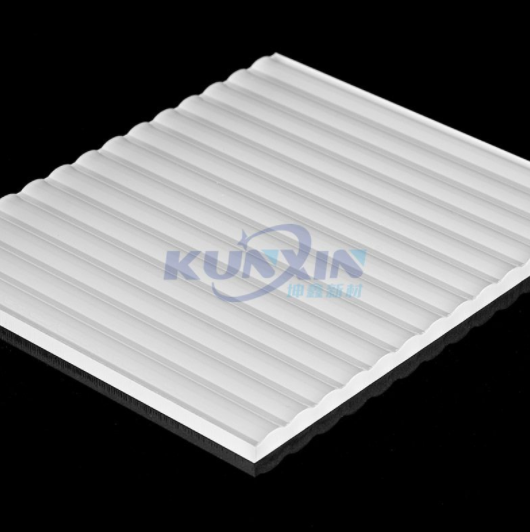 Typically, you can find frosted acrylic panels that already provide the desired diffused look. In this case, you can simply cut to size or make as needed. Full sheet sizes or specially priced pre-cut sizes are available. Cut-to-size sheets are also available at an additional cost. Want a custom quote? Please contact us!