Cast acrylic, often referred to as Plexiglas, is an extremely versatile material that can be used in a variety of applications. Cast acrylic is a synthetic plastic produced by a chemical reaction between a catalyst and a monomer, resulting in a lightweight, transparent plastic product.
Our clear acrylic is transparent, strong and lightweight, and is available in a wide range of sizes, thicknesses and colors. You can also request acrylic sheets to be cut to size or machined into fabricated parts to meet the exact specifications of your application. Purchase our online cast acrylic sheet inventory today or submit a request for more information!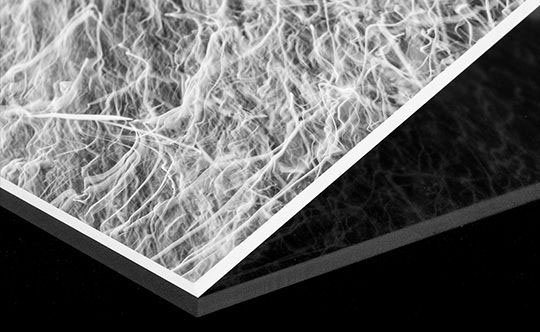 Key features and benefits of cast acrylic
Cast acrylic is the preferred plastic choice for those seeking superior clarity and strength in their applications. Our clear acrylic is transparent, impact resistant, moisture resistant, and half the weight of glass, but 17 times stronger. In addition, cast acrylic has greater optical clarity than glass, but it is also 10 times more resistant to breakage.
Cast acrylic is very versatile and can easily be molded, machined or laser cut to your exact specifications. It is available in a variety of sizes, thicknesses, and finishes and is easy to thermoform to meet your needs. Finally, cast acrylic has a higher molecular weight than its extruded acrylic counterpart, resulting in better resistance to cracking when exposed to solvents and harder surfaces.
Common applications for cast acrylics
Cast acrylic is commonly used for a variety of interior and exterior applications. Due to the versatility and durability of this material, it is also used in a variety of industries. Cast acrylic is commonly used for signage, advertising and POP displays, architectural glazing, security partitions and barriers, and many more applications.
Cast acrylic standard sizes, thicknesses and colors
Acrylic sheet sizes: 24" x 36", 24" x 48", 48" x 96", 48 " x 120", 50" x 72", 50" x 100", 51" x 100" 54" x 100", 60" x 96", 72" x 96", 72" x 100", 80" x 120", 100 80" x 120", 100" x 126"
Cast acrylic thickness: 1/8", 3/16", 1/4", 3/8", 1/2", 3/4"
Cast acrylic color options: red (2283), yellow (2037), blue (2050), gray (2064), green (2108), orange (2119), bronze (2370) and many more color options available upon request.
How to cut acrylic sheets
Cutting acrylic sheets is easy and in many cases can be done with household tools. Using a plastic cutter, tape measure, clamps, ruler, sharp permanent marker and proper safety equipment, you can complete the scoring and folding method.