The main characteristics of all kinds of LED special-shaped light guide plates widely used in lighting engineering are as follows.
1. Lattice-free light guide technology: the surface of the light guide plate does not have any dot and grid design and processing, which greatly improves the production efficiency.
2. Diffuse reflection principle: high light conversion rate, uniform and soft light effect, not dazzling.
3. Stable performance: independent research and production of light guide materials, using pure MMA monomer casting, assembly line production, from the source to control the stability of product quality, to ensure that the performance of each batch of products is consistent.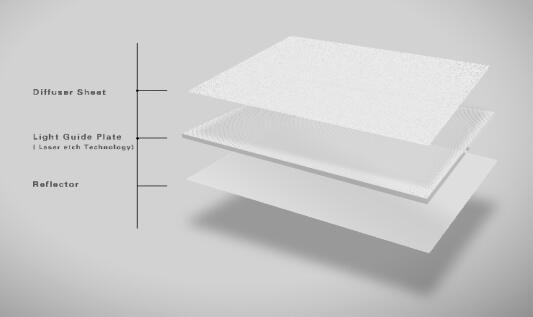 4. Break through the limitation of the traditional light guide plate: it can be cut into any shape, can be hot-bent, and can be spliced.
5. It can be used both indoor and outdoor, non-extreme environment, the optical performance is almost no attenuation, and the service life can reach 8-10 years.
6. Natural double-sided light guide, single-sided or double-sided, such as double-sided use is more cost-saving.
7. They can use any point light source, line light source to do surface light source conversion, including LED, lamp, laser and so on.
8. Inventory is available, which is convenient to control the loss and improve the comprehensive utilization rate of the original board.