LEDs are a light source that is both energy-efficient and long-lasting. Because of the bright intense LED hot spots, LED light can be harsh to the human eye, distracting when lighting wider areas.

The use of diffusing or light blending technology is essential to produce a soft glow or minimize glare.
In the light diffusion technique, the brightest light near the bulb's edges is moved to regions of the lightbox with the least amount of light. An even distribution of light is achieved using this approach.
A diffuser is used to do this.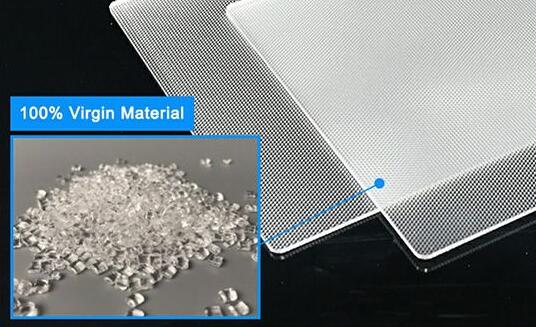 What Is a Polycarbonate Diffuser?
Polycarbonate Diffuser Sheet, also known as diffusion polycarbonate sheet, through the diffusion of Polycarbonate Diffuser Sheet, the entire plate surface forms a uniform light-emitting surface without forming dark areas, no residual image is formed on the screen, making the picture more realistic, reaching The crystal clear and transparent effect. As far as the quality of the Polycarbonate Diffuser Sheet is concerned, it is closely related to the use of the diffusion particles. Generally, the less the content of the diffusion particles, the higher the transmittance and the lower the sensitivity, and vice versa. The lower the rate, the higher the fog sensitivity.
What is an acrylic diffuser?
With high haze, high transmittance, high diffusivity and other optical characteristics of plastic sheeting, acrylic diffuser sheet can effectively point or line light source into a soft, uniform surface light source, to achieve good light transmission.
Acrylic diffuser, Polycarbonate diffuser, Which One Should You Choose?
Acrylic and polycarbonate, as opposed to standard glass, provide a number of advantages that standard glass does not. Increased light filtration, impact resistance, increased strength, and enhanced weight and viscosity flow characteristics are just a few of the benefits. However, there are a few main differences between acrylic and polycarbonate plastics.
Polycarbonate and PMMA components are often lighter and thinner than glass, and they allow for more design versatility. Furthermore, injection-molding processes were used to scale the components to production sizes at a low cost.
Polycarbonate has higher heat resistance, higher impact strength, and improved breakage resistance than PMMA. In addition, polycarbonate is more flame-resistant. PMMA transmits more light (> 92 percent) and is more resistant to UV radiation than polycarbonate.
Since the price, processing ease, and optical properties of polycarbonate and PMMA are so close, choosing between them is a difficult decision. The final decision is made based on the conditions of the application.
Polycarbonate has a heat distortion temperature of 129°C whereas PMMA or acrylic is 93%. Besides, polycarbonate plastic's UV solar radiation has high sensitivity and you need to UV absorbers to solve the problem.
Acrylic plastic is one of the most flammable polymers and polycarbonates are inherently fire resistant.
Conclusion
Acrylic plastic is a good choice if optical properties are important and a high illuminance level (lux units) is needed. Polycarbonate, on the other hand, would be the only option if the application needs fire resistance because of the high risk of fire.
Overall, polycarbonate diffusers provide soft and diffused light. The material's flexibility and ability to custom-tailor properties make it an excellent fit for manufacturer and molder requirements.
Most significantly, polycarbonate is a popular material in the LED lighting industry because it has successfully overcome some of the industry's most difficult challenges.
So if you are producing a bulk amount of LED or lamps, the advanced polycarbonate materials can provide you with desirable properties such as design versatility, low weight, and UV safety.
Besides, being a manufacturer of LED lights or lamps, you will gain more design versatility as polycarbonate grades are optimized for particular applications.