Mar. 18, 2020
Diffuser Plate In LED Panel Light Is Generally Made Use Of For Wipe Off Area And Also Mesh Of LGP (Light,guide plate), make the light more even. Its major material is COMPUTER, PMMA, PS.
1. With high strength and also elasticity modulus, high influence toughness, substantial using temperature.
2. High transparency and free of coloring.
3. High H.D.T. (heat distortion temperature, is refers to plastic under specific stress, started to deformation's temperature level.).
4. Great tiredness resistance.
5. Good weather resistance. Weather condition resistance describes plastic experience sunshine, temperature level, wind blowing, rainfall ect., arise fading, discoloration, fractures, pulverization as well as strength decline ect. a collection of ageing sensations. The ultraviolet radiation is the key aspect make plastic ageing).
6. Unappetizing, odourless safe to the body, according to the health and wellness.
7. Forming contraction price low, dimension stability is exceptional. Overall said, stability of PC is the very best. Fire ranking high, very easy to pass the safety certification. Yet PC cost is rather expensive, and also electrostatic is high, simple to take in dust in the setting up. And functioning time consuming price way too much (COMPUTER diffuser has protective film on both sides, some protective movie is extremely tough to tear, some tore a piece must be a number of minutes). The light transmittance price of COMPUTER is fairly reduced. It has to do with 86%.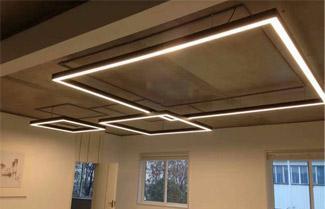 PMMA Diffuser Sheet
Advantages and issue in application:.
1. Acrylic plate has excellent weatherability, high surface area gloss, and also good heat efficiency.
2. Price low, affordable product as well as simple molding. In the very early LED panel light production, polymer is popular.
3. Exceptional printing effect. LED panel light is normally fairly easy. So if consumer has need of a large area of screen printing, first choice is acrylic.
4. The fire resistance: Won't be spontaneous combustion.
5. High light transmittance, can reach 90%. Yet likewise trouble concerning it. We understand that LED panel light is backlit. High passage is tough to hide speckle. It is very easy appear light area.
6. And also acrylic is dual agreed protective film, very easy to take in dust, production will cost time extremely.
7. Polymer is crisp, easy to break.
PS Diffuser Plate:
PS has a very good chemical stability, thermal stability, optical characteristics, solid refraction, strong electric protecting, high radiation resistance as well as little propensity of wetness absorption. Which can be made use of in humid environment. It can withstand water and also weaken mineral acids. Yet, at the same time, it is reduced influence strength, low weather resistance. If long exposure to exterior, appear yellow, fragile phenomenon. Its warm resistance is poor, the deformation temperature level is 70-90 °, just can be utilized in the setting under 70 °.
Low temperature immune performance is not good, the embrittlement temperature level was -30. PS has lots of drawbacks, but usage for LED panel light, its negative aspects are less apparent, and its benefits stand apart. LED panel light is usually used in interior, functioning temperature is 20-60. Climatic influence is tiny. High refractivity, will wipe off the lightspot. It is best for indoor utilizing. On another way, its little fixed power benefits production. The transmission rate is 88%, although can't get to acrylic's, various other advantages can cover this tiny scarcity.
We are Lighting Diffuser Factory, welcome to consult.